HA VU revisits Trần Anh Hùng's picturesque pre-war Vietnam in 'The Scent of Green Papaya'.
Saigon, 1951. Rumblings of trouble and the plights of wartime seem several lifetimes away from the majestic Vietnam portrayed in Tran Anh Hung's The Scent of Green Papaya. From the bleeding sap of verdant papaya leaves to a frog on lotus pads, the film's attention to detail creates a mesmerising feature that evokes any and all of our senses. The Scent of Green Papaya is not plot driven nor action packed; it barely tells a story. Yet the story it does tell is a simple one, free of guile and artifice. We are left craving the textures, colours, tastes and smells of post-colonial Vietnam. By following Mui's journey into womanhood, the simple acts of everyday life become a celebration of beauty and innocence.
Timid yet curious, Mui first appears as a 10-year-old servant girl who comes to a highly traditional household. She begins learning her duties around the house while effortlessly communing with her natural surroundings. None could have forced Mui to be a shadow, a mere cog in the machine that works tirelessly to please its owners. Her cheery smile and rare innocence brings grace and beauty to a family that has known much sorrow.
Despite her status as a servant, she manages a life of quiet joy, unlike her wealthy employers. Beset with malicious antics from the youngest son, Mui slowly learns the reason behind his discontent and misbehaviour. Bereaved by the tragic death of their young daughter, the self-centered father frequently spends long periods away from home, gambling the family's fortune into the dirt. With an absent husband, the mother devotes her time to running a textile business, leaving their children recalcitrant, but most of all deeply unhappy.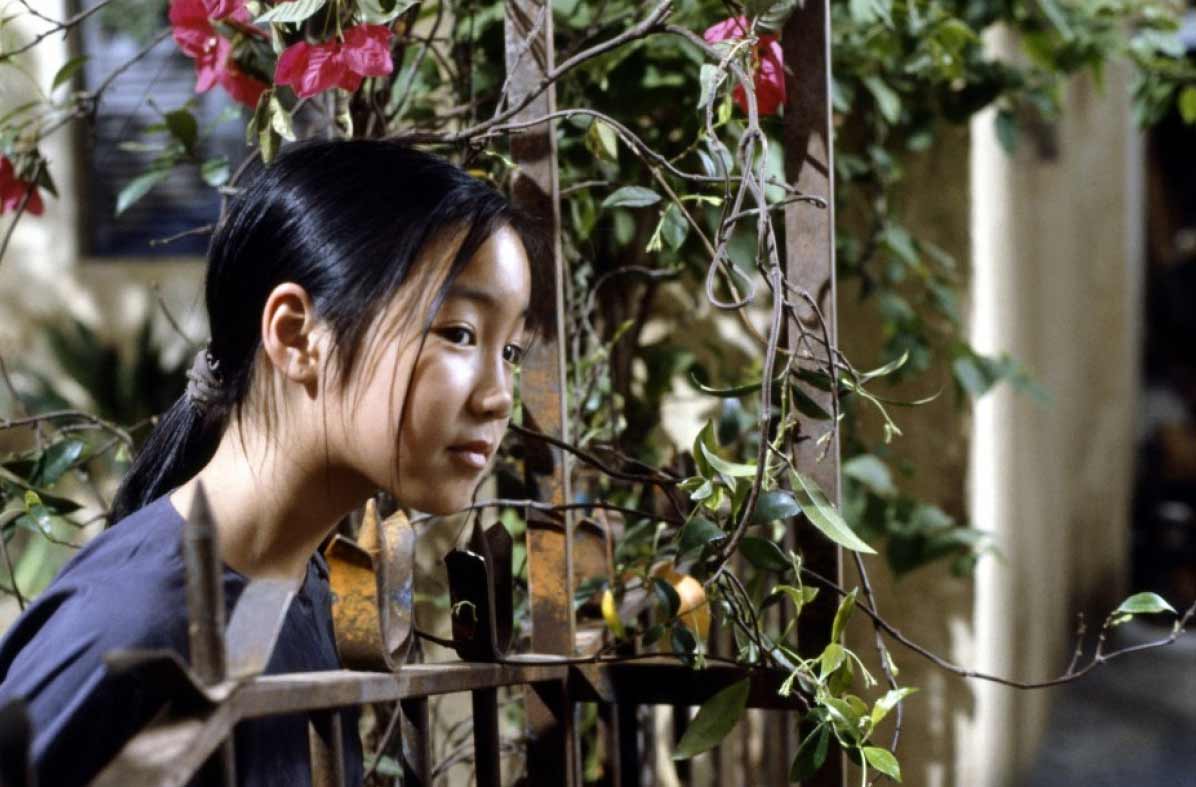 The death of the father 10 years on causes the complete breakdown of the bare threads holding the family together. The youngest sons leave home; the servants are gradually dismissed; and the mother spends her days praying in solitude. No longer able to afford to keep her, Mui, now a stunning young woman, is sent to work for Khuyen, the best friend of the eldest son, who has matured into an accomplished classical musician. As Mui quietly graces his house with her untainted beauty and simple goodness, Khuyen realises the treasure in front of him, and their love story unfolds.
The Scent of Green Papaya is not a film where meaning needs to be analysed and metaphors drawn. Benoit Delhomme's incredible cinematography conveys the vibrancy of Mui's world, one full of greenery and bursting with vitality. Every scene of the film exudes a unique warmth that transcends the screen to blanket its audience. So deep is the romanticism of the film that dialogue is minimal, employed only to move the story along. Hung focuses instead on mundane items, creatures and objects often overlooked by inhabitants of a frenetic world. The green papaya from the film title has an understated importance in Mui's life. She prepares it with rituality, holding and cutting it as if it were not a mere fruit, but a precious diamond.
An untraditional film score of harrowing flutes, poignant string instruments and Khuyen's piano makes The Scent of Green Papaya wordlessly evocative. While showing the blend of Vietnamese and French culture, the variations in music help to preserve a peaceful Vietnam that will soon be war-torn. Despite the dreamlike quality of the post-colonial Vietnam seen on screen, none of it was actually part of Vietnam; Hung had shot the film entirely on a soundstage outside of Paris.
Hung successfully recreated the memories of a lost Vietnam that could not be found in 1993, with its people hardly nostalgic for the colonial era. The film, much like Mui, is an idealised version of reality. As Mui reads poetry to her unborn child, she shares a knowing look with the audience, as if to distract us from the roar of a jet that signals that war is to come. Although her world is picturesque and no longer exists, perhaps she means to provide a legacy of its memories long after it has gone.
Director: Trần Anh Hùng
Cast: Trần Nữ Yên-Khê, Lu Man San, Trương Thị Lộc, Vương Hoà Hội
Running Time: 104 minutes
Release date: June 8, 1993