HA VU reviews 'I am Sun Mu', Adam Sjöberg's documentary about the North Korean defector turned political pop artist. 
Filled to the brim with satirical art and vibrant stop motions, I am Sun Mu tells the unusual story of a North Korean defector turned political pop artist. With an apt nom de plume meaning 'the absence of borders', Sun Mu's rise to fame earned him the threat of execution. Adam Sjöberg's documentary takes its audience behind the curtain to reveal a private world where artists counter North Korea's regime despite immediate risks. "I don't put myself in danger on purpose, but it is what I am destined for", says Sun Mu, "I'm doing what I have to do".
North Korean defectors are increasingly vocal about their experiences in a regime they once worshipped, and their journey to an outside world that almost guarantees their death. Sun Mu's expressions through the visual medium are more than political comments about the suffering prolific throughout North Korea. "He paints hope", discloses Liang Kegang, owner of the gallery that briefly exhibited Sun Mu. Strongly motivated by a desire for a better life, he continues to create artwork in spite of its fatal price tag. Exhibitions can be shut down, artworks censored and defectors silenced, but "if you kill a rooster, the dawn will come nonetheless. That's how I see all of this unfolding".
Sjöberg's documentary chronologically counts down to the opening of Sun Mu's exhibition in Beijing. With parents and siblings still living in North Korea, Sun Mu is forced to conceal his face and name out of fear for those he left behind. Discovered by the army, his talent was used to paint propaganda posters for Kim Jong Un's regime. His flight was not prompted by discontentment with the state: "I thought North Korea was a great country, but I was just hungry", remarks Sun Mu poignantly. The poetic manner in which he describes his escape conveys paramount sadness and incredible heartbreak in having to leave his home country.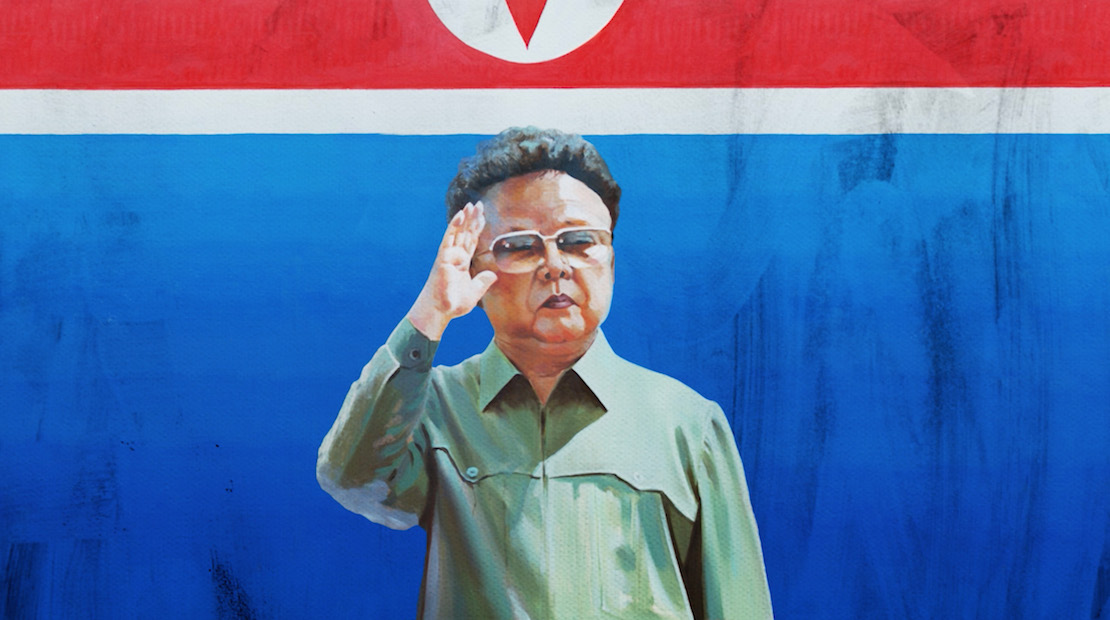 Once in the safety of South Korea, Sun Mu began painting satirical pieces that pose powerful questions about the politics of North Korea. From painting Kim Jong Un in uncoordinated Nike tracksuits and Adidas trainers, to 'happy children' with robotic smiles in uniform, Sun Mu offers biting parodies that gained him international recognition.
Introduced to Beijing's art world by Cui Xianji, word of Sun Mu spread like wild fire until it reached Liang Kegang, who immediately agreed to showcase his work. Sjöberg's mention of the Tiananmen Square protests in 1989 reminded not only of China's policies on countering governments, but also of the imminent risks in publicly displaying sensitive art. Facing threats from spies in the Wangjing district, Liang Kegang cries out in contempt: "I can't stop an exhibition I like so much just because of risks. I have been taking risks for 20 years! To be an artist is the only way to feel a little freedom".
Far from Sun Mu's expectations, the opening of his exhibition saw not streams of visitors pouring in, but police officers and North Korean embassy staff, who surrounded the gallery to prevent entry. Interrogated until 3 a.m., Liang Kegang was eventually forced to close the showcase, whilst Sun Mu immediately left for South Korea. Reflecting on his short-lived exhibition, Sun Mu instead talked of the documentaries he watched after his escape: "from the perspective of the universe, the Earth we live in is a speck of dust, but the humans living here are arguing, fighting and killing each other. What a shame before the eyes of aliens".
Filmed at a relaxed, almost nonchalant pace, I am Sun Mu contrasts entirely in its content. A soundtrack of saddened pianos and violins to accompany equally harrowing works of art. Sun Mu's use of bright colours are juxtaposed with dark realities. Sjöberg's documentary demonstrates the importance of art in revealing the brutalities of a persisting totalitarian regime. Art is a powerful form of activism, and its censorship, according to Sun Mu, is barbaric. As his art transitions from satire to depicting symbols of hope to bring the two Koreas closer together, Sun Mu lays the groundwork to show that peace is possible:
"It's sad that I can't stand there in the public and say 'I am Sun Mu', because that is who I am. But if the unification suddenly happened, I think I would look like one of my paintings".
'I am Sun Mu' is showing at the Human Rights Watch Film Festival on March 16th at the Curzon Soho, followed by a Q&A with Adam Sjöberg. Tickets are available here.